We are nearing the final month of the 100 Deadliest Days of Summer – a time when fatal car accidents involving teens increase an alarming 43%. While teens have the highest crash rate of any age group year-round, from June through August, an average of 780 teens die in car accidents – that's 260 deaths each month from car accidents alone.
According to We Save Lives, a highway safety advocacy group dedicated to changing driving habits, 60% of teen car accidents are caused by distracted driving, but only 12% of those accidents involve texting or talking on a cell phone. This perfectly illustrates one of the biggest misconceptions about distracted driving: the problem can be solved by banning cell phone use in cars.
In Wisconsin, texting while driving is illegal for all drivers. Teen drivers with probationary licenses or instruction permits are barred from using a cell phone for any purpose while driving. However, while certainly well-intentioned, these laws do very little to actually stop distracted driving.
A comprehensive study conducted by AAA found that onboard electronics, including Bluetooth, do absolutely nothing to curb distraction. In fact, this study found that talk-to-text and similar features are actually more distracting than handheld cell phone use. Again, this illustrated the misconception that cell phones are the largest cause of distraction and that minimizing their use while driving will eliminate distracted driving car accidents.
What Causes Distraction?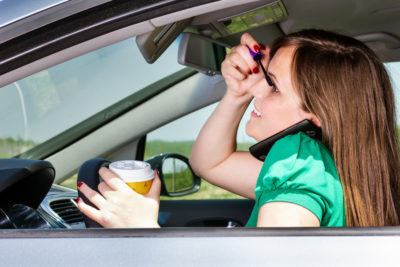 Cellphones are certainly a form of distraction. They should be turned off completely or put in airplane or driving mode while you are operating a vehicle. However, it is folly to believe that turning your cell phone off will translate to zero distraction. Driving attentively takes effort. You are made safer the more effort you put in.
Some of the most common causes of distraction-related car accidents are:
Personal grooming – this includes shaving, applying makeup, combing hair, and doing anything else best done in a bathroom

Eating and drinking – this includes fast food, coffee, breakfast cereal, and anything else that requires your hands leave the steering wheel

Fiddling with electronics – your radio, portable music player, phone, GPS, and onboard electronics should be set before your car is in motion and never adjusted until the car is at a complete stop.

Traffic lights are not a complete stop

General inattentiveness – rubbernecking, looking at passengers, taking in the scenery, and anything else that takes your eyes and/or attention from the road
Anything at all that takes your full attention from the road places you and everyone around you at risk for injury or death.
Multitasking Is a Myth
Many people believe they can multitask, they may even think they are good at it. But the science is clear: no one can multitask, we just aren't built for it. Our brains perform tasks sequentially, not concurrently.
According to the American Psychological Association, there are cognitive consequences when we switch rapidly between tasks. One of those consequences is delayed reaction and response time. When you're driving, even a split-second delay can be deadly.
The best way to protect yourself is to avoid all forms of distraction while driving. This will better enable you to respond to the erratic driving behaviors of the distracted drivers around you while keeping you from joining their ranks. If you are injured by a distracted driver despite your best efforts, you may be entitled to significant compensation. We are here to review your case free of charge to help you determine the most effective way to move forward.
To schedule a free consultation at our Milwaukee office, please call 414-400-4000 today. Techmeier Law fights for victims of serious injury throughout Wisconsin.