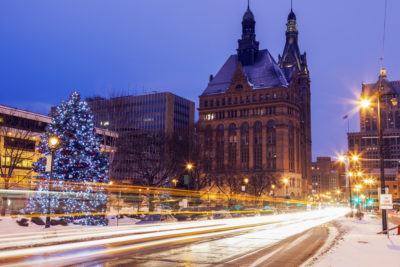 AAA estimates a record-breaking 112.5 million people will travel 50+ miles between December 22nd and January 1st. According to AAA, more than 102 million people will do their traveling by car, which could make traffic up to 4x slower in some of the nation's busiest cities.
If you plan on traveling by car for the holidays, give yourself a lot of extra time to get to your destination. Traffic in and around Milwaukee could be significantly slower during peak travel times – and with snow currently in our Christmas forecast, conditions may add to already slow travel and increase risks for car accidents.
If you are injured while driving this holiday season, Techmeier Law can help. Call our Milwaukee office to schedule a free case evaluation and learn more.
Commercial Traffic
In addition to an increase in the number of passenger vehicles on the road, there will be an increase in commercial traffic. AAA reports that trains and buses will see an increase of around 4% in travelers. Combined with cruise ships, trains and buses are expected to see around 3.7 million travelers this holiday season.
If you are planning on heading to the airport, bear in mind that we are expecting the highest air travel numbers in 15 years. AAA reports that 6.7 million people will fly to their holiday destination, a 4.7% increase over last year. Remember, increased air travel means increased vehicle traffic on the way to airports. As with all driving during peak traffic, it is vital that you drive cautiously, courteously, and attentively to help avoid causing or being killed in an accident.
Make a Plan
Even if you are not traveling far, make a plan for the trip. Before you head out, choose podcasts, playlists, or stations that you like to listen to and be sure to pre-program GPS. Not having to worry about directions and entertainment while in heavy traffic is always ideal.
Bring things, like car games, for everyone in the family to do. But if you are driving, let the kids play without you. Driving requires all of your attention.
Be sure to have a roadside emergency kit as well. This should include:
Blankets

Gloves

Extra socks

Hats

Extra cell phone batteries or battery operated portable chargers

Jumper cables

Basic socket set

Screwdriver

Duct tape

Flashlight and batteries

Water

Food
If you find yourself stranded off of the beaten path, these things will come in very handy. Be sure to carry reflective triangles or cones as well to make yourself easier to spot.
Travel Safe
As we discussed in our Thanksgiving Travel Forecast blog, getting safely to your destination requires you drive sober, avoid distraction, and keep your calm. These behaviors should be practiced always, but become increasingly important in times of heavy traffic.
Give yourself time to drive safely and courteously to and from your destination, and help make sure everyone can enjoy a happy and healthy holiday celebration.
If you live in the Milwaukee area and are in need of an experienced car accident lawyer, please call Techmeier Law at 414-400-4000 for a complimentary case review today.