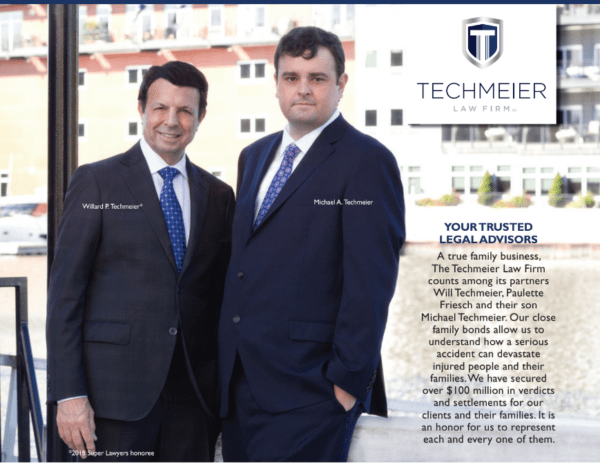 Milwaukee personal injury lawyer Willard Techmeier has been recognized by Super Lawyers for the twelfth consecutive year. Having first made the list in 2006, Attorney Techmeier has retained his Top-Rated Milwaukee Personal Injury Lawyer status since through his continued efforts to provide the most effective representation to our clients.
If you live in or around Milwaukee and are in need of an effective, proven, and award-winning personal injury attorney, please call 414-400-4000 to schedule your complimentary consultation at Techmeier Law today.
What is Super Lawyers?
Super Lawyers is an attorney rating service that helps men and women find quality attorneys in their area. Attorneys are nominated for selection by Super Lawyers by their peers. From the site, "Peer nominations and evaluations are combined with independent research. Each candidate is evaluated on 12 indicators of peer recognition and professional achievement."  Mr. Techmeier has been selected for this listing for 12 years in a row.
Attorney Techmeier handles a range of personal injury cases including:
If you find yourself in need of representation in Milwaukee, we welcome an opportunity to meet with you free of both charge and obligation, to help you determine the most effective way forward.
A Family Firm
Attorney Willard Techmeier and wife Paulette Friesch have been joined at the firm by their son, Michael Techmeier. Working as a family and legal partners, the close bond between the attorneys at our firm allows for more thorough and complete representation. We understand the needs of families because we operate as one, both in and out of the office, giving us deep insight into the ways an injury to one family member can impact the health, happiness, and lifestyle of all others. With this in mind, we build strong cases on behalf of our clients and seek maximum compensation for families dealing with the consequences of a serious injury.
With more than 60 years of combined experience, the attorneys at Techmeier Law have served Milwaukee and surrounding communities for over three decades. Trusted, experienced, and effective, our attorneys are here to help you and your family get justice and compensation following any type of accident.
Please call Techmeier Law at 414-400-4000 for a free consultation at our Milwaukee office. We welcome victims of serious injury from all surrounding areas, including Waukesha, Kneeland, Oak Creek, and Cedarburg. Call today for your complimentary case review.