When we accept a case at Techmeier Law Firm we do more than open a new file. We open a new relationship.
Our personal injury attorneys and legal staff believe that the relationship we form with you as one of our clients – like all important relationships – will rest on three key principles:
The goal of our relationship is to pursue a recovery for you. The recovery should fairly and fully compensate you for all of the losses you have suffered due to the wrongful conduct of another. It should also leave with you a sense of security as you move ahead in your life.
Contact us today to discuss your case in a free and confidential consultation. We serve clients in Milwaukee and throughout Wisconsin.
Caring and Compassionate Client Service
Techmeier Law Firm truly understands how frightening and confusing it can be to suffer serious injury or lose a loved one through no fault of your own – whether this occurs in a car accident, motorcycle accident, workplace accident or due to use of a defective product.
While you are still trying to recover from a traumatic experience, you may find yourself confronted with hefty medical bills and other expenses. At the same time, you may be unable to work and earn income.
We want to ease your anxiety and burdens by taking care of all of the legal issues in your case. For instance, we will investigate your case, file all necessary paperwork and deal with the insurance company adjusters and attorneys on your behalf.
We can also work with medical care providers so that your treatment needs are met while your case is moving forward.
Your case is important to you. It is important to us, too. This is why we will work efficiently and effectively to seek a maximum recovery for you and your family.
Our mission is to see you get back on your feet as quickly as possible. We care about you, your loved ones and your future.
Experience and Dedication
Our three attorneys have more than 60 years of combined professional experience. They are admitted to practice in all of Wisconsin's state and federal courts as well as the U.S. Supreme Court.
Attorney Will Techmeier is a nationally certified civil trial and civil pretrial advocate who has been selected by the Super Lawyers peer-rating service every year since 2006 as one of the top lawyers in Milwaukee.
You can put your trust in Will and our team of lawyers – including Paulette M. Friesch – as well in our knowledgeable and experienced legal staff.
For more than 30 years, Will Techmeier of Techmeier Law Firm has been fighting for people hurt or killed by negligent drivers, dangerous property conditions, defective products and other causes.
You can be assured that we will treat your case with the care and attention it deserves, and we will do everything possible to seek a positive result for you and your family.
What We Do
Techmeier Law Firm focuses exclusively on helping those who have been injured or lost a family member due to the careless, reckless or intentional acts of another. Please review our firm's many different practice areas and learn more about how we can help you. Read more.
Our Results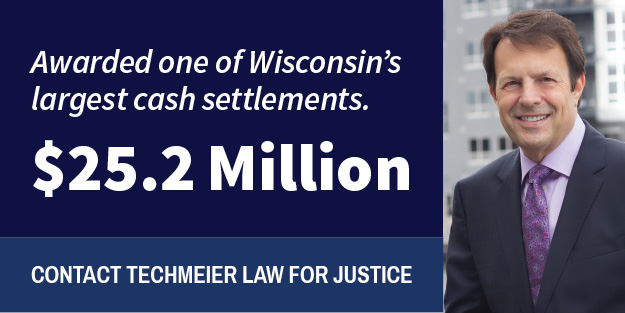 The attorneys of Techmeier Law Firm have recovered more than $85 million in personal injury and wrongful death cases on behalf of our clients. Prior results do not guarantee a similar outcome can be obtained in a case. However, they do indicate our firm's experience and ability to handle a wide range of cases. Read more about our case successes.
Result obtained in a case involving a 6-year-old boy who was critically injured when he reached into an unlocked transformer box. It marks the largest settlement or jury verdict ever in a personal injury case in Wisconsin.
What Our Clients Say
The most rewarding part of our work is making a difference in our clients' lives. Please learn more about the experiences of clients we have served in the past. Read more testimonials.
"When I met with the Techmeier team, I knew I found the right attorneys for my case. They genuinely care about you and work to ensure you understand the legal jungle. They leave no stone unturned. Techmeier Law Firm is the only firm I would want on my side. I cannot thank the whole team at Techmeier for making a difference in my life and taking on this case."

– K.O.
Attorneys Who Protect Wisconsin Car Accident Victims
The Wisconsin car accident attorneys of Techmeier Law Firm understand that even the safest drivers among us can become the victims of the careless and reckless acts and decisions of others.
We are firmly committed to helping victims of auto accidents and other types of motor vehicle accidents. Our goal is to seek full compensation for their physical, emotional and financial harm.
Our work begins by conducting a thorough investigation of your crash. We may analyze crash scene evidence, interview witnesses and consult with experts. We can determine why your crash occurred and who should be held responsible for it.
We then review all potential sources of compensation, including the insurance coverage of any at-fault party and policies of your own. For instance, the recovery in a car accident case may be comprised of funds obtained through the at-fault driver's liability coverage and your own underinsured motorist (UIM) coverage.
In each case, we strive to reach a timely settlement which compensates our client for past and future medical expenses, lost income, reduced future income, pain and suffering and other damages.
However, we are seasoned trial lawyers who will always be prepared to take a case into the courtroom to fight for our clients' rights.
In addition to auto accidents, our lawyers handle cases in Milwaukee and throughout Wisconsin that involve:
We can provide a free review of your case and help you to understand more about the options we can pursue on your behalf.
Lawyers Who Stand Up for Wisconsin Defective Product Victims
The attorneys of Techmeier Law Firm have a long history of protecting the rights of those across Wisconsin that have been harmed by flawed and dangerous products.
We understand how to handle product liability cases that can be highly complex and which may be litigated at a national level.
We strive to hold manufacturers, distributors, and retailers fully accountable for allowing products to reach consumers that have been defectively designed or manufactured and which are unsafe when used as intended.
We also handle cases in which manufacturers failed to give a proper warning about risks associated with their products.
Our law firm is focused on cases involving:
Note: While many defective products are recalled by manufacturers, a product does not need to be recalled to be the subject of a product liability lawsuit.
Contact Our Wisconsin Personal Injury Attorneys
If you have suffered a serious injury or lost a loved one through no fault of your own, get in touch with Techmeier Law Firm without delay. You can call us or reach us through our convenient online form.
We can provide a free and confidential consultation. We can use that consultation to learn more facts about your case and to explain the many different strategies that may be pursued on your behalf. You can also ask as many questions as you would like about our firm and our approach to helping clients.
Remember: Under Wisconsin law, lawsuits must be filed within a specific period of time. So, it is important to take action as soon as you are ready. Contact us today to get started.