If you have been seriously injured in a truck accident, you may face several hardships immediately afterwards. Due to the large size of these vehicles, truck accident injuries are often catastrophic. Mounting medical bills and lost wages may place a serious financial burden on you and your family.
The actions you take immediately following your truck accident may play a crucial role in your ability to recover the compensation you deserve. It is important to follow these steps to ensure that you do not jeopardize your settlement.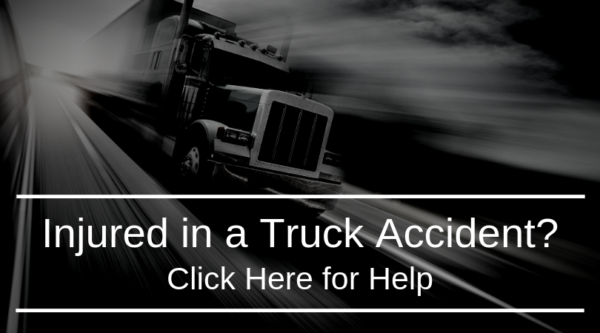 What to Do at the Accident Scene
It is important to stay calm. The first thing you should always do is check to see if you or your passengers have suffered any serious injuries. If so, call 911 and seek medical attention immediately.
You should always document the accident scene as much as possible. Take photos of the damage to your vehicle and the truck. If there are any skid marks or other indicators of what happened during the accident, take photos of these as well.
Make sure you take down the contact information of any witnesses at the scene who may be able to verify your version of the truck accident. You will also need to exchange information with the truck driver. Make sure you take down the driver's:
Name
License number
License plate number
Insurance information
Registration information
Trucking company information
Finally, make sure to have a police officer dispatched to the scene to fill out an accident report. This is especially important if you are not at fault.
Seek Medical Attention
It is crucial that you seek medical attention immediately following the truck accident to make sure you haven't been seriously injured. Often, truck accident injuries can take days, weeks, or even months to appear. You will need to document that these injuries were in fact caused by the truck accident.
Also, prompt treatment for many truck accident injuries may minimize the long-term damage you suffer. If you delay treatment, it can cause your injuries to get worse, requiring more extensive treatment in order for you to fully recover.
Notify your Insurance Company
You will need to inform your insurance company that you have been involved in a truck accident as soon as possible. You should always be truthful when talking to the insurance company, but never admit fault or sign any papers without consulting an attorney first. Otherwise, you might jeopardize your right to receive compensation.
Contact an Experienced Truck Accident Attorney
Truck accidents are highly complex, and require the assistance of an experienced truck accident lawyer. Often, multiple parties might be responsible for your injuries, including:
The truck driver
The trucking company
The truck manufacturer
You will need a lawyer who can evaluate all of the evidence to determine the appropriate parties to hold liable in your truck accident claim. The trucking company's insurance carrier will also be doing everything in its power to reduce the amount of money they must pay for your claim. The sooner your lawyer can start gathering evidence and battling the insurance companies, the greater the likelihood that you'll receive the compensation you deserve.
Please contact our truck accident lawyers today to schedule your free initial consultation. Techmeier Law Firm serves clients in Milwaukee and across the state of Wisconsin.