You have a right as a worker to be safe and protected on your job. If you had an accident or were exposed to harmful conditions at work, you are entitled to compensation. If a loved one was killed on the job, they are also entitled to compensation.
A workers' compensation attorney at Techmeier Law Firm can help. The firm's workplace injury attorneys are presently accepting claims.
Will Techmeier of Techmeier Law Firm is proud to stand in the legal arena beside injured workers and their families. Contact us at 800-242-1050 if you have been injured on the job, or if a family member has been injured or killed. A skilled workplace injury lawyer will be happy to discuss your options. There is no charge for the call.
The First Call, The Only Call – Workers Comp Lawyer at Techmeier Law Firm of Wisconsin
When an injured worker squares off against an employer or a large corporation, it is often a case of David vs. Goliath. The Milwaukee workplace lawyers at Techmeier Law Firm can provide the legal "slingshot" to defeat the giant.
If your life has been upended by a workplace injury, call 800-242-1050. The first call you make will be the only call you need.
Workers' compensation: In Wisconsin, this is often the sole remedy available to injured workers. Unfortunately, a workers' comp claim can be an administrative nightmare. We will make sure that the proper paperwork is filed, the most persuasive evidence is submitted, and all deadlines are met so that you will receive maximum financial benefits.
Third party claims: Sometimes it is possible to sue parties other than the employer for workplace injuries. We will explore all avenues and bring to the bargaining table all appropriate companies, individuals, and insurance companies.
Mesothelioma: This severe and life-threatening lung disease is caused by exposure to asbestos, often at the workplace over long periods of time. Symptoms of mesothelioma often do not show up until years after the initial exposure. We will make sure you get the medical treatment you need and the compensation you deserve.
Industrial/Plant Explosions: While these types of accidents are rare, there have been 2 of these unfortunate occurrences involving Ethanol production facilities in Wisconsin in the recent past (Didion Milling – May/June 2017). These cases represent a unique challenge that the Techmeier Law Firm is the best equipped in Wisconsin to handle – we have direct experience with ethanol plant explosion-related deaths & injuries. Worker's compensation is certainly a factor in these incidents, but an expert attorney will try to identify a third party that can be held responsible, greatly increasing your chances for proper compensation.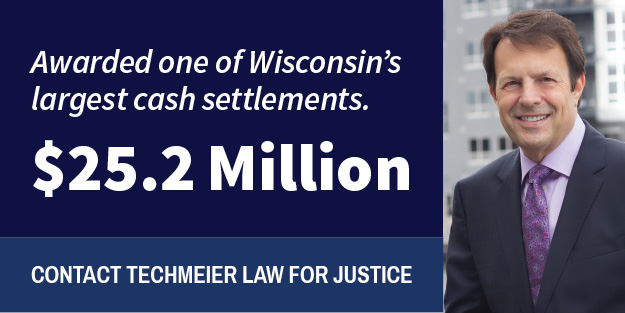 Contact the Milwaukee workers compensation attorneys at Techmeier Law Firm. Will Techmeier of Techmeier Law Firm investigates workers' compensation, workplace injury, and wrongful death claims. If you or a loved one think you might have such a claim phone 800-242-1050 to speak with a Milwaukee work injury attorney about your case.
Will Techmeier of Techmeier Law Firm has recovered more than $85 million for their clients in settlements and trial awards – including the following work accident case wins:
Senior partner Will Techmeier has been listed in Super Lawyers® since 2006, is past president of the Wisconsin Association for Justice, and is certified as a civil trial advocate by the National Board of Trial Advocacy.
Partner Paulette M. Friesch spent 20 years as legal counsel for a Fortune 500 company – so she knows how big business works – and is licensed to practice in all of Wisconsin's state and federal courts. Get with a workers comp lawyer today. You pay no fee until your case is won.